Climate Controls is a Plymouth based trade supplier of Big Foot Systems. With the main plant positioned up on the roof, there is generally a need to install associated auxiliary services. Big Foot Systems designs and manufactures freestanding systems for flat roofs, where services and plant equipment is installed. Big Foot Support products provide the quick, versatile and economical solutions. Our wide range of Big Foot Systems can be purchased online or over the phone on 01752 894 777. Many of our Big Foot Support systems come with free next day delivery and can also be collected in store using our Click and Collect service.
Features and Benefits of Big Foot Systems;
Non-penetrative, prefabricated, versatile plant and services support systems.
Quick and easy to install products and systems.
Ensure project cost and time clarity.
Reduces the need for complex, time-consuming and expensive detailing.
Improved roof aesthetics with neat and tidy engineered solutions.
Robust and repeatable.
Market leading products and services.
On-site support.
Install in all weathers utilising familiar componentry.
All systems designed with safety, security and simplicity in mind.
If you have any pre-sales questions, please call us on 01752 894 777. These Fit it Foot Support Systems are available to buy online direct from us and delivery is generally next working day from the UK.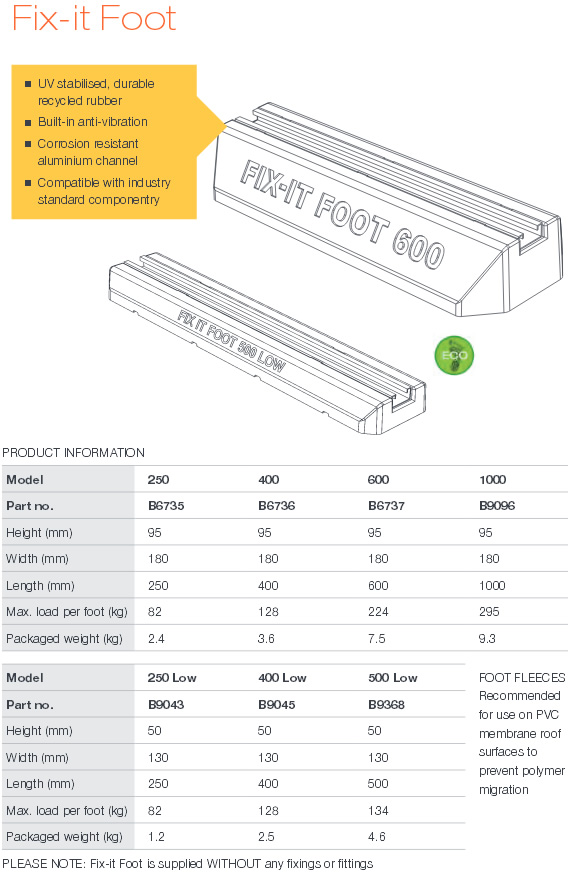 Fix-it Foot systems supplied by Climate Controls are economical and environment aware. We also supply a range of Big Foot H Frame Systems, Framework Systems and Step Over & Rapid Walkaway Systems.
Popular numbers from our Big Foot Fix-It Foot systems range: FF1000S, FF250S, FF400S
Popular part numbers from our Big Foot H Frame range: B6088
Popular part numbers from our Big Foot Framework Systems range: B6075, B6077, B6078
Popular part numbers from our Big Foot Step Over and Rapid Walkaway range: B6939, B6940, B6941