Daikin Spare Parts
Climate Controls and Spares are an Authorised National Daikin Spares Distributor.
This means you can shop our wide range of Daikin Spare Parts, but if you can't find that what you're looking for we can source it for you! Simply contact us for price & availability on 01752 894777 or info@climatecontrolsandspares.co.uk
Daikin Spares are normally available on a 1-2 Day Delivery Service.
We also stock a range of Daikin Air Conditioning units, including Daikin wall mounted inverters, Daikin floor mounted inverters, Daikin ceiling cassette inverters, Daikin ceiling mounted inverters, Daikin under ceiling cassette seasonal smart inverters, Daikin ceiling suspended, Daikin built in DC ducted seasonal smart inverters, Daikin built in DC ducted seasonal classic inverters and Daikin concealed ducted ceiling units.
Or if you are looking for Daikin Altherma, we are an authorised stockist, view our Altherma Heating Range.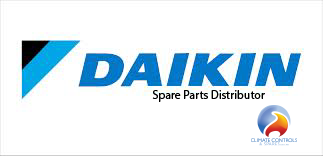 If you are looking for any of the below Daikin Spares / Parts we can supply them.
Daikin Compressors.
Daikin Scroll Compressor.
Daikin Inverter Compressor.
Daikin Swing Compressor.
Daikin Pcb.
Daikin Inverter Pcb.
Daikin Printed Circuit Boards.
Daikin Air Filters.
Daikin Fan Motors.
Daikin Thermisters.
Daikin Drain Pumps.
Daikin Remote Controls.
Daikin Expansion Valve.
Daikin Condensor Coil.
Daikin Solenoid Valve.
Daikin Crankcase Heater.
Daikin Electronic Thermostat.
Daikin Float Switch.
Daikin Magnetic Contactor.
Daikin Capacitor.
Daikin High Pressure Switch.
Daikin COIL. MOTORIZED VALVE.
Daikin BODY. MOTORIZED VALVE.
Daikin BODY. FOUR WAY VALVE.
Daikin COIL. FOUR WAY VALVE.
Daikin Sensor.