Toshiba News
Price Reductions Announced SMMS-e lands unique awards hat-trick CIAT additions expand Toshiba offering
New warranty rewards skills Latest Training Centre set for Plymouth
New Mirai on R410A and R32 Toshiba has announced significant reductions in UK air conditioning prices.
The reductions of up to 16per cent come into effect from 1 June, and are part of
Toshiba's strategic goal of doubling air conditioning sales by 2020. The initiative follows continuing business efficiency improvements
and economies of scale due to growth. The new pricing applies to some of Toshiba's most popular ranges of splits and VRF air
conditioning equipment.
The highlights of the new pricing structure
include:
• Toshiba RAS systems reduced by up to16%;
• Digital Inverter split systems reduced by up to 12%;
• Three-phase Super Digital inverter outdoor units reduced by as much as 14%.
Even our multi-award winning VRF systems benefit, while associated products – such as some air-to-air heat exchangers – receive a
9per cent reduction.
We announced our 2020 growth strategy last year, supported with the introduction of new products, increased stocking levels, new
appointments, a major expansion in production capacity, enhancement of the warranty
terms available to trained contractors and a global push on training.
Toshiba is dramatically increasing stocking at the Plymouth facility with a further 44,000sq ft of racking space, ensuring immediate
product availability for most ranges. Lower prices give Toshiba installers an edge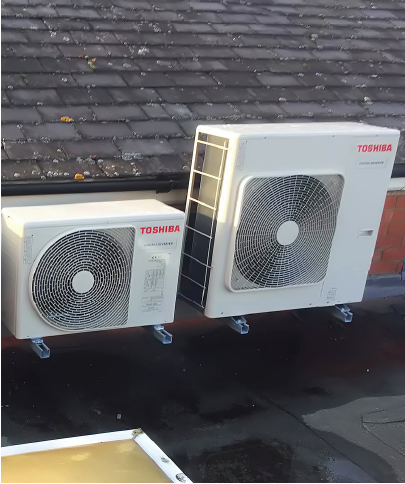 Toshiba's SMMS-e VRF achieves unique hat-trick
Toshiba's ground-breaking VRF system, SMMS-e, has achieved a unique triple success, winning the top accolade for air conditioning
innovation in three of the industry's major awards.
The pioneering VRF system completed the remarkable hat-trick by being crowned
Mechanical and Electrical Building Services Product of the Year 2016 in the H&V News Awards for Excellence.
Toshiba was presented with the award at The Grosvenor on London's Park Lane, in front of an audience of more than 1000 leading lights
from across the industry. It follows similar success in the National ACR Awards and ACR News Awards earlier this year.
The judges said: "Toshiba's SMMS-e achieves best-in-class energy efficiency by combining a vast number of innovative and proven
technologies in one product." It is the only VRF in the market with all outdoor units exceeding
7 ESEER (European Seasonally Adjusted Energy Efficiency Rating).
David Dunn said: "We are delighted that SMMS-e has again triumphed, and gained its third major accolade this year for innovation
and energy performance. Independent endorsement by no fewer than three separate industry judging panels confirms our belief in
the product as industry-leading - and in the most important and competitive sector of the air conditioning industry."
However, we are not resting on our laurels. The SHRM-e VRF, to be launched later this year, will build on the success of the SMMS-e, and
feature further innovations in technology that will contribute to even higher efficiencies and ease of installation and servicing."
Following the purchase of CIAT Group globally by UTC last year, CIAT's UK operation has moved to new headquarters alongside
Toshiba in Leatherhead. The company supplies a complete range of high performance chillers, air handling units, fan coils
and heat pumps. CIAT products are now available from Toshiba direct, enabling the company to offer a "one stop shop"
service to cater for all requirements on a project. Equipment will be stocked and distributed from Toshiba's UK logistics hub at Plymouth.
The new CIAT base will include a dedicated air conditioning training centre with working equipment, a show room and administration offices for technical support and sales staff.