Straight Copper Coupler CxC
Specific Benefits Include:
Each copper fitting is engraved with unique branding together with the fitting size where space permits.
All sealed protective polythene bags are product labelled.
Products are supplied in reinforced cardboard boxes, labelled with product information and outline drawing.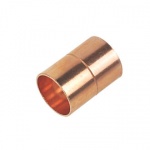 Straight Copper Coupler C x CFrom: £0.18
Available in 1/4", 3/8", 1/2", 5/8", 3/4", 7/8", 1.1/8", 1.3/8", 1.5/8", 2.1/8", 2.5/8", 3.1/8", 3.5/8" and 4.1/8"
Degreased copper endfeed / endbrazed fittings manufactured to ASME B16.22-2001
All fittings are supplied in group sealed protective polythene bags and are specifically designed for copper refrigeration and air conditioning systems.