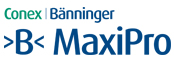 >B< MaxiPro copper fittings from Conex Banninger are quick and easy to install. The innovative 3- point press design provides you with a secure and permanent joint, simply press each side of the bead and press to compress the o-ring and your fittings are secure. The design also features a lead-in edge which will help to protect the o-ring from damage or displacement.
The fittings do not require brazing, therefore removes any fire risk or permits needed on site.
Suitable for air-conditioning and refrigeration applications up to 48 bar.
Covered by a 5 year product Guarantee when installed by a trained and certified >B< MaxiPro installer.